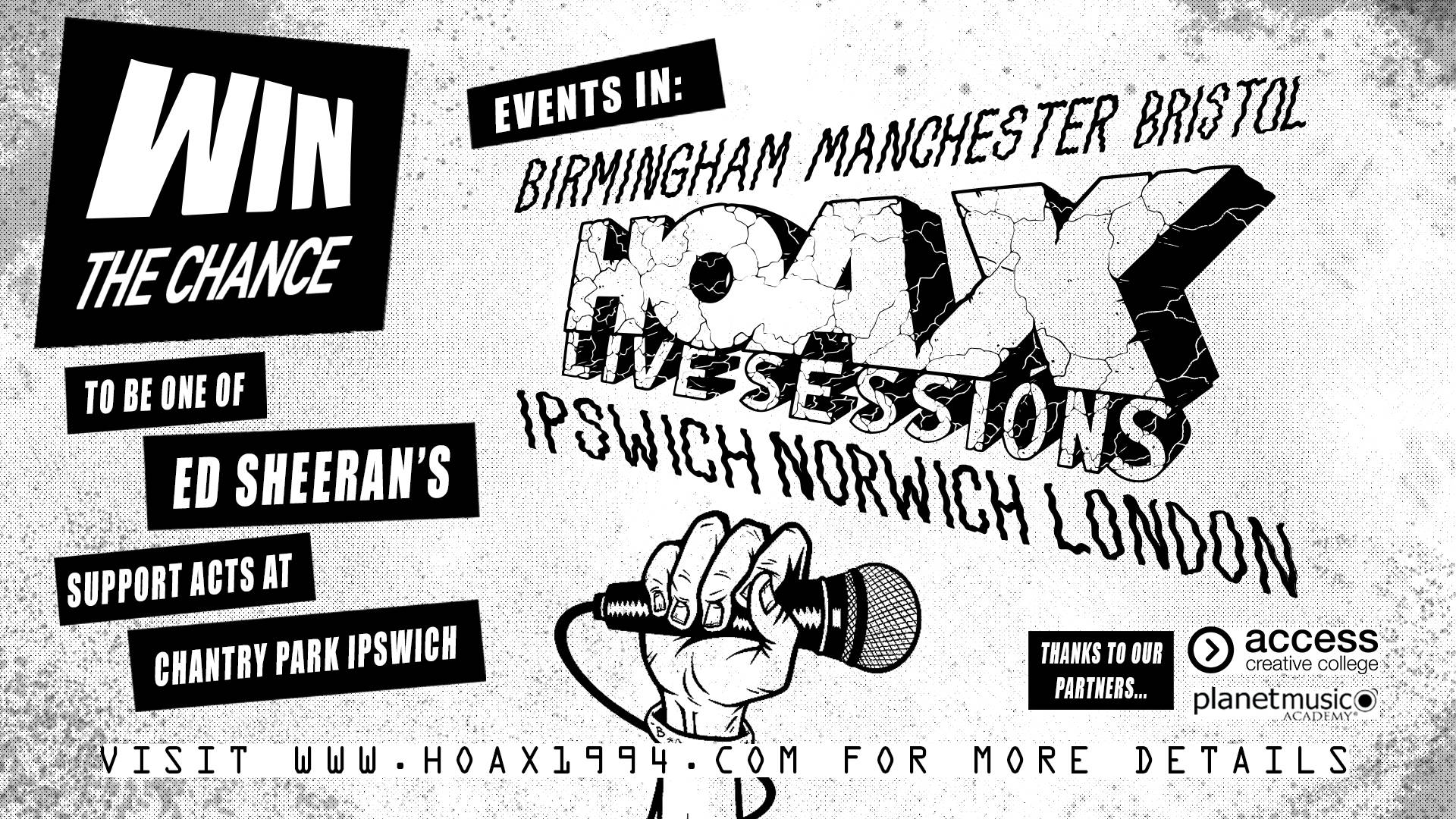 HOAX Live Sessions 2019 is a six stop UK music tour in search of an un-signed artist/band (of up to 5 members) that will support Ed Sheeran at Chantry Park, Ipswich on 26th August - the final night of his record breaking Divide World Tour!
Submissions will be taken via the online form which can be found below. This will be open from Friday 14th June at 4pm and closing midnight on Friday 28th June 2019.
Following the registration closing date (Friday 28th June) we will compile a shortlist of 5 bands per venue (Ipswich/London/Bristol/Birmingham/Manchester) to play at the live semi-finals held in each of these locations. These shortlisted acts will be contacted via the email address or phone number provided in the submissions form. One winner from each venue will be selected for a place in the finals which will take place in Norwich on the 16th August. There will be an independent judging panel for each venue, who's wealth of knowledge and year's of industry experience will determine a winner to support Ed on the 26th August.
Dates for the Semi-finals and final are listed below:
Semi-final: 11th Mama Roux Birmingham.
Semi-final: 12th July - Cult Bar, Ipswich
Semi-final: 18th July - Signature Brew Tap Room, London.
Semi-final: 19th July - Rough Trade, Bristol.
Semi-final: 23rd July - Gorilla, Manchester.
FINAL: 16th August - Epic Studios, Norwich.
All participants must be available to play a 20 minute set at both the semi-final and final rounds, if shortlisted. Each artist/band will select their preferred venue in which to play their semi-final heat, these venues have been listed above. Entries made after the closing date will not be considered. This competition is open to all unsigned acts* and due to venue restrictions, all participants must be aged 14+. Entries to this competition cannot be made without agreeing to our Terms & Conditions found here. Good luck!
*Please be sure to read our Terms & Conditions, including our definition of 'unsigned', before registering for this competition. Terms & Conditions can be found here.
The Prize: The winning artist/band will perform a 20 minute set to open Ed Sheeran's final night of the Divide World Tour. Up to a £2,000 fee can be paid to cover expenses.